You may have heard a radio commercial by "Republic Tax Relief" lately. While their ads make a fairly conventional pitch, albeit with an unconventional delivery, no part of this company seems to match any other part. Can a company this poor at cohesive brand marketing be trusted with handling your tax case?
For the record, Google does have an issue with fake businesses advertising on Google Maps. They even acknowledge it. There is even a complaint form where you can report fake businesses on Google Maps. We are not saying this is the case with Republic Tax Relief. But those empty chairs around a table are really creeping us out.
Republic Tax Relief's website is suspicious
As we mention around here all the time, the tax relief company industry is full of sketchy and dodgy operations. The United States Federal Trade Commission has a warning about dodgy tax relief companies, while our colleagues at WaTax list over 100 tax relief companies which have ceased to exist. In the trade, we call this a "fly by night" industry. These factors are in play:
This makes it very easy for a nobody-business to open up shop, rook in a few marks, and shut down, only to have the same people open the same business under a different name months later and do it all over again. Your average tax relief company has the longevity of a Spirit Halloween store at the mall.
So we start out looking at the Republic Tax Relief website. We find this on their FAQ page:

..and then we check Optima Tax Relief…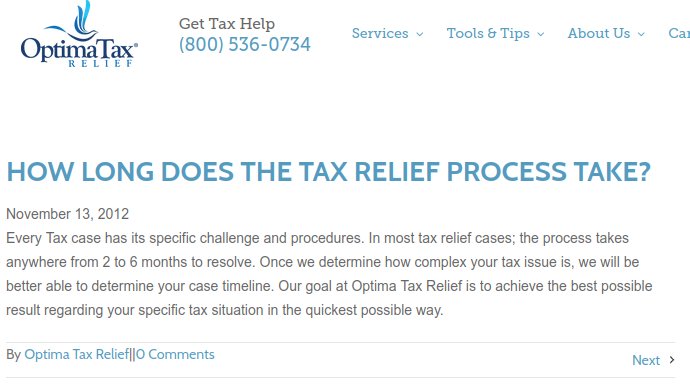 There is the exact same text word for word, except where they replaced the competitor name with their own! So they copied and pasted from a competitor's FAQ (Optima has been around for a good long time). At the very least, that can make Google blacklist you. We see it again with the rest of their FAQ, they copy a lot from Optima. And small wonder they do, because they struggle so hard to write on their own…

After "We have certified," the other nouns should be plural. "We have certified enrolled agents, tax attorneys, and CPAs…" There's amateur errors like this all over the site.
We hate to make the "grammar nazi" argument, but seriously, if they can't afford a decent copy editor, how much more care do they take with taxes? This made us suspicious enough to dig deeper.
Is the company actually called just "Republic tax"?
If you even tried to do business with Republic Tax Relief, you might have been disappointed before you got started. Their contact page gives out the wrong email: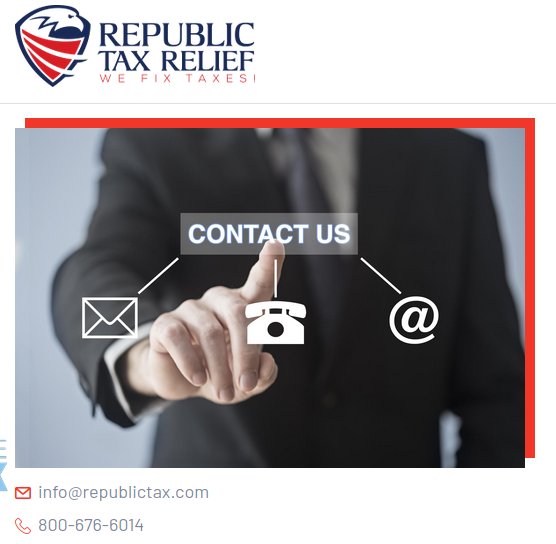 That domain is "republictax.com." This does not match the site URL of republictaxrelief.com. This raised the question with us of whether we even had the right company. So we checked the Corporation Wiki and found nothing for a "republic tax." We do, finally, find a profile on Inc. for Republic Tax Relief, but it just gets more confusing from there.
That profile on Inc.com even shows the website as "http://RepublicTax.com" which actually redirected to the Republic Tax Relief site. So they've changed their names once already? It seems that either a company named "Tax Relief" closed and got squatted, or the same company just changed its name. Maybe the latter.
The profile at Inc.com shows a Twitter account again to "@RepublicTax," but that account shows Republic Tax Relief in their branding. We knew we had the right place this time, because here comes that grammar struggle we talked about: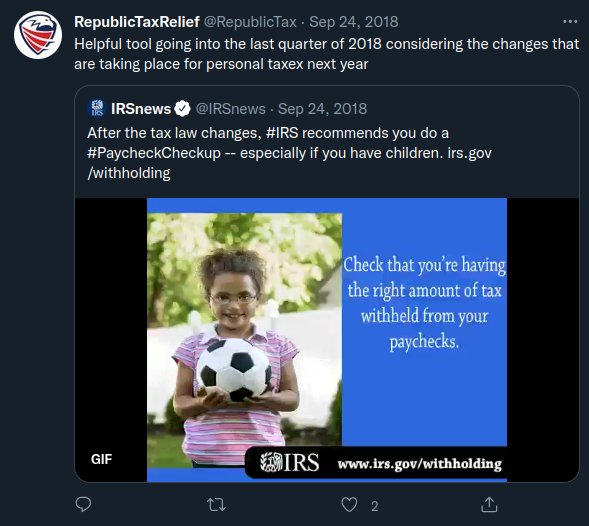 That is "taxex," as in your "place for personal taxex next year." Again, not to be nit-picky, but doing legal work on your taxes for the IRS does require some measure of literacy. That tweet, by the way, is from 2018, only the second most recent tweet on the account.
Do the Google Maps photos even belong to them?
According to Google Maps, "Republic Tax Relief" has an address in Corona, California. Except the address listing has them as "Located in: Circle-K franchise," which is the building there. But wait, when you browse the photos that Google maps puts up, you get…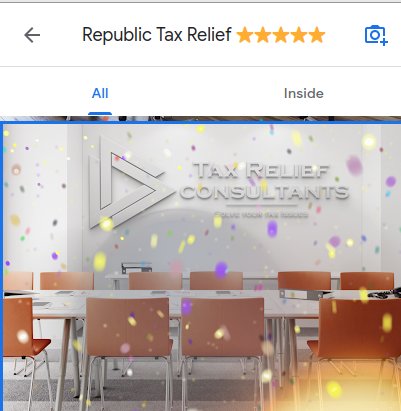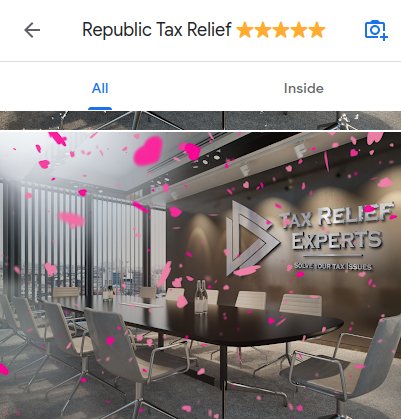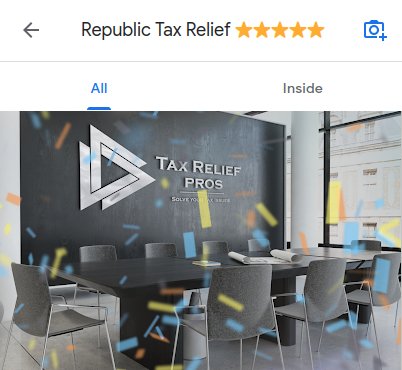 So… These are actual photos we grab off the Google Maps listing for "Republic Tax Relief" as of August 2021. There are two major things we'd like to point out about these photos:
There are no people in these photos. All they prove is that a table and some chairs exist.
There is a big name of a tax relief company on the wall by the furniture, and it's not even the name "Republic Tax Relief"!
In fact, the logo on the wall goes through several iterations. Per photo, it says:
Tax Relief Advocates
Tax Relief Consultants
Tax Relief Experts
Tax Relief Pros
The wall keeps getting promoted. I'm happy for it! That wall's parents must be so proud.
If you scroll down their entire photo set, there is only one photo with people in it. And it's a stock photo which doesn't match any others. Just so we're clear, most companies that bother to post photos to their maps account at all tend to at least snap the outside of their building with the sign showing or something. Staff shot in front of the counter, etc. Something besides ghosts.
By now, we have established:
1) A tax relief agency which is so strung out that you wouldn't want them to handle your case for any amount of money
2) A shell for a fly-by-night company
One last thing: We do find an underpopulated Facebook account for them just like their activity-starved Twitter feed. And there we find some interesting comments…


Two comments calling the company a scam. There is no response to these, either. And then we find an announcement that they have rebranded. Aha! So far we might suspect that they used to be named "Tax Relief" + plus one of "Advocates" thru "Pros." No, instead we get…

"National Tax Credit"! We actually find that site, by the way. There's their text. Now check Optima's site. Yes, the text is copied again!
We have come full circle back to where we started, and have literally found nothing. Just imagine yourself in the position of a customer who wanted their money back. How do you sue them? Where do you serve the papers?
Getting back to those reviews…
Republic Tax Relief's reviews are abysmal!
We find 21 complaints on the BBB and numerous warnings on Yelp. Quotes include "RUNNNNNNNNNN the other way. What a rip off." | "I just want to start by saying that I made a mistake of hiring them, I should have never hired them." | "Please don't grant Republic Tax Relief the power to represent you to the IRS. It's a mistake."
By this point, you can figure out the story. We have spent so much time trying to pierce the mystery of this company that we can't even be sure it exists, except somebody hired somebody to record a radio ad.
For more about fraudulent tax relief companies, see our big tax relief company guide here.
Are you here because you have tax problems?
First of all, we publish a free tax help guide, so that you can handle your tax problems "do it yourself" style. Maybe that will help you, or at least you'll be a better-informed consumer about your options.
Still need help? Right about now, how does an actual, expert attorney in tax cases sound? Now how about a free, no-obligation consultation, with our guarantee that we will not take your case until we know that we can improve it?
Sounding better? Set a free appointment for a consultation or call (888) 515-4829 with no further obligation today!