When we get consumers coming to us with their tax problems, we often hear their "war stories" about their previous false starts with shady tax relief companies in the past. All the more reason to come to us in the first place! Today we're going to have a look at one such tax relief company, with the name of StopIRSDebt.com.
StopIRSDebt, on it's website StopIRSDebt.com claims to have been in business for 17 years
The part they don't tell you is that they haven't been doing business under the same name for 17 years! They were formerly Blue Tax, which we know because after Blue Tax closed down, their phone number redirected callers to StopIRSDebt.com. Both firms shared a location in Los Angeles, California. You will also notice that on the front page of their site, down at the point where they list endorsements, they claim top ranking on Solvable and "ranked best tax solutions on Supermoney."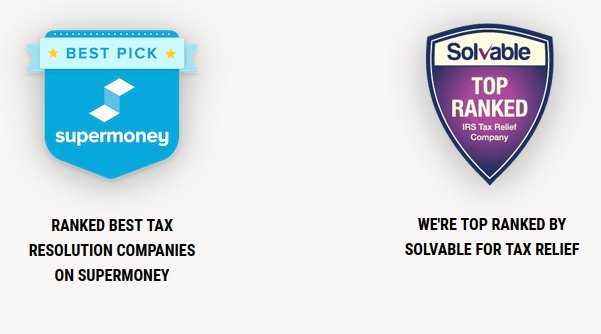 Solvable is itself a tax relief company, so it does seem odd that a "competitor" would have something good to say about them, doesn't it? Of course, it would make sense if the two companies were affiliated. As for Supermoney, we found the page they're talking about, and it's actually not all it's cracked up to be. It lists just 3 companies: Optima, Justice Tax LLC, and StopIRSDebt, which is bringing up the rear in that page's rankings. Optima itself is another tax relief company we've covered before, with questionable business practices.
The Supermoney page might be just another parent company to StopIRSDebt, possibly working for Optima.
It pays to read the FAQ!
On StopIRSDebt's own FAQ page, we find plenty of red flags that tell us what's really going on. Bottom line, they are not a law firm, and likely will toss your case to an enrolled agent or CPA in their network. These businesses operate under a very simple business model: Advertise like crazy, get you on the phone, get your money and your information, then hand you around to other sales phone jockeys while nothing happens to your tax case!
Their FAQ:
"StopIRSDebt.com is a tax resolution firm, not a law firm."
They claim to have "enrolled agents and CPAs" as well as actual attorneys, but then hit you with this:
"Note: Due to normal staffing variances, we may or may not have both forms of representation available at all times during the year."
Wow! What a coincidence, they may just happen to not have an attorney on staff when you desperately needed one. They repeat that notice at least twice in the FAQ. This goes to show that you should research companies thoroughly and look for any signs that they're not being up front about their process.
The BBB lists over a hundred complaints about StopIRSDebt
Normally we don't put much stock in review sites because many of these companies simply buy good reviews. It happens everywhere. But in this case, the Better Business Bureau complaints about StopIRSDebt are through the roof!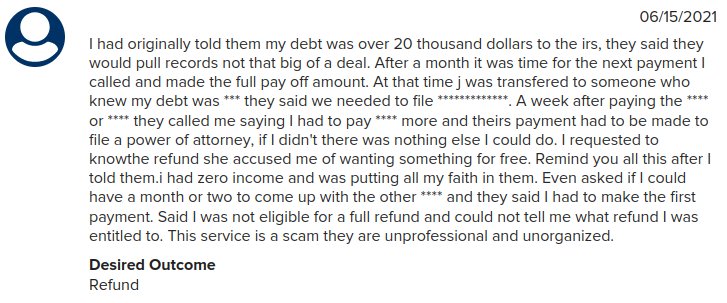 Basically, this boils down to "took my money, then they stalled and did nothing."

Here again, "resolve my case or refund my money."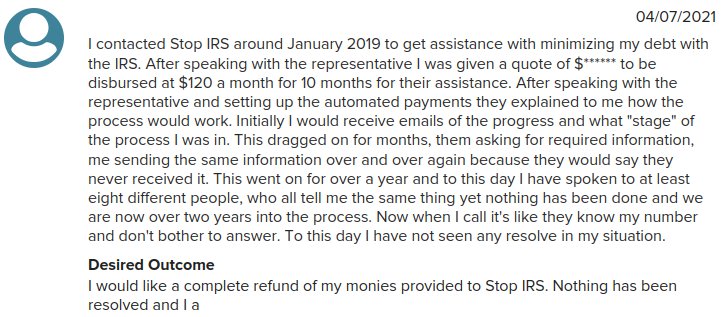 And it's "third verse, same as the first," another unsatisfied customer who was charged money and got nothing but a runaround.
These complaints go on for pages of scrolling, all telling a similar story. StopIRSDebt does respond to complaints there, but with deflecting answers and outright denials. We could give them the benefit of the doubt if one or two sourpusses were complaining about nothing; this happens with any company. But a hundred complaints all telling the same story? Gimme a break!
Reminder from the FTC: Beware of all tax relief companies which fit this template
We would recommend that every US citizen who has ever had to pay taxes take five minutes to read this helpful expose about tax relief companies. The Federal Trade Commission gets so many complaints about this industry that they have to write up a general warning. That page might be the best ten minutes' reading you have even done in your life. Some key takeaways:
Never believe a promise that you will get relief from tax liabilities.
Beware of companies that misrepresent how long it will take to process a debt relief request application.
Watch out for companies that omit relevant asset information on financial statements submitted to the IRS.
That last part is a dodgy bit of creative accounting that some companies try to do to convince you that you're going to get a break on your taxes. What happens instead is that the omission will be caught in an audit, and guess who's responsible for that little slip-up?
All other considerations notwithstanding, if you want anybody representing you to the IRS, you want a tax attorney. A tax relief company has no commitment to your case; attorneys are required by US law to see a case through or provide a very good reason why not in front of a judge. The tax relief company can simply hang up the phone on you and leave you worse off than you were before.
For more about fraudulent tax relief companies, see our big tax relief company guide here.
Why not just get a free consultation with an attorney in the first place?
Here at TRP, we can make the following claims right up front:
YES, we ARE a law firm!
Yes, you will speak to an attorney if you chose to deal with us.
You can handle your tax case yourself; follow through our tax help guide. We even tell you how to fill out the forms yourself.
Our initial consultation is free.
If your case is not something we can help you with, we will tell you upfront.
Once we take your case, we are going to see it through to a conclusion.
Of course, many of you will look through the tax guide and say that it looks too intimidating. We understand; not everybody has the time to fight the IRS.
If you are here, chances are that you're in a position of owing money to the IRS and would like a second opinion from an expert tax attorney. We will make it easy for you: Click here to schedule a free consultation or call (888) 515-4829 with no further obligation today!
Even if your case doesn't warrant our direct action, you will be better informed about the way forward. With a free consultation and no obligations, you have nothing to lose!