Today we're going to look at another tax relief company, this time "TaxRise," a company based in Irvine, California. While the company itself takes pains to not appear too controversial, we did some deep digging to investigate its background. We're seeing it now as part of a larger picture, which we might call the "preying on desperate poor people" industry.
TaxRise has discouraging reviews
Let's start by pointing out that online review sites are to be taken with a grain of salt. We never know how many variables may be affecting the reviews on any company:
Bad reviews may be left by competitor
Good reviews may be sock puppet accounts of the company
The company may pay to have bad reviews removed
The company may pay to promote good reviews
With that said, you can consider the filtering effect of any of the above forces in play when you read a page of reviews about a company. Reputation management is a whole cottage industry to itself, and large companies tend to view it as an essential part of marketing. So when you see a few claims of bad practices, you might consider that what you're seeing is just the complaints the company couldn't remove.
Some snapshots of TrustPilot reviews: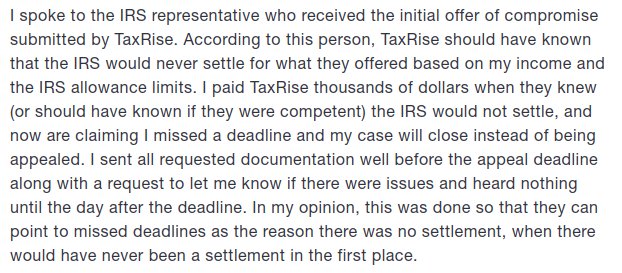 So the company charged this person "thousands of dollars" and they sent a dud offer then closed the clients' case without warning.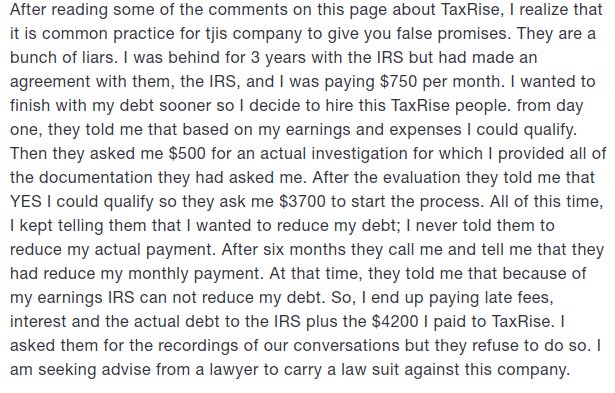 An identical story. For $4200 total, TaxRise pitched a bogus offer to the IRS, the IRS returned it saying it was no good, and the client was left with "Whelp, we did all we could, here's our bill."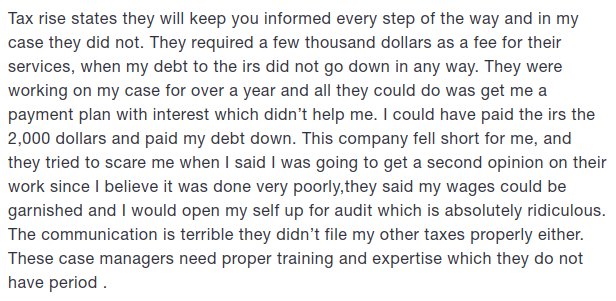 This story shows some possible predatory practices. Trying to use "scare tactics" to discourage the client from seeking help elsewhere is definitely not professional and smacks of fraud.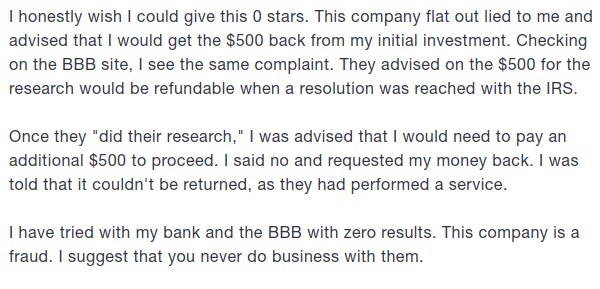 This time the client backed out before completing the transaction, and the company kept his $500 anyway, claiming they had done their job. Except all they did was answer the phone and take down the clients' personal information. This is usually called a "consultation" and is typically done for free.
That review mentions the Better Business Bureau, so when we go there, yes, there's plenty more complaints about TaxRise on the BBB. There are 89 complaints as of this writing. Most of them take exactly the same form as the TrustPilot ones.
Some complaints sound like an "Offer Mill" scenario
Many tax relief companies that we find use the "offer mill" method, explained very well in this article about tax relief scams.
> "Another thing these companies do is take your case knowing that it'll be rejected, and submit the paperwork anyway. This is often a terrible trick because albeit it's rejected, they've "done their job" by submitting the paperwork. The reality is; half of these Offer Mill companies don't even complete the paperwork they submit. So albeit you had the prospect of qualifying, the IRS will reject the case because the paperwork is either incomplete or incorrect."
…and…
> "The IRS rejects over 83% of Offer in Compromise cases. The rationale is that these Offer Mill companies everywhere in the country are submitting bogus cases. An honest tax resolution company will review all the financial specifics of the case and can confirm you'll actually qualify. An honest tax resolution company won't submit your paperwork unless they really believe your case is going to be accepted."
This is a ludicrous and fraudulent practice! It is taking people's money to do nothing, and furthermore exploiting people in a shaky financial position already. When it comes to submitting an Offer in Compromise to the IRS, we offer an entire section detailing the process, even showing that you could do it yourself for free!
TaxRise's own site has a "success stories" page, which claims "1,216 successful resolutions with the IRS" in the year 2020, but we have to wonder how many of these "offer mill" pitches are counted in with the "resolutions." TaxRise allows no complaint about them to go unanswered on the BBB, TrustPilot, or other review sites, but their responses are always the same canned boilerplate denial claiming they resolved the case successfully on their end.
We can leave further consumer research up to the reader, however, because we noticed an ever bigger red flag. The BBB puts up an alert, stating:
The owner of TaxRise is the subject of a court order in California
> "Essam Abdullah, the owner of Tax Rise Inc, is also an Owner of Optima Advocates Inc, which was the subject of a Settlement Agreement with the California Department of Financial Protection and Innovation. The agreement ensures that Optima Advocates, Essam Abdullah, and any affiliates do not offer or provide the student-loan debt-relief services described in the Order."
Now when we see an individual company, we tend to think of it as a separate entity. But what do we see when we zoom out to the owner, the other companies they own, and the other people affiliated with them?
TaxRise is connected to Optima Tax Relief and a whole web of intrigue!
To start with, we found a review of TaxRise on the site Supermoney. You may recognize that site from our former post about StopIRSDebt, which is:
First, Supermoney itself admits that it's a "pay to play" site, right there in its disclaimer.
> "The owner of this website may be compensated in exchange for featured placement of certain sponsored products and services."
Second, Supermoney seems to contradict itself right there on the page when discussing TaxRise.

Regarding their staff, it seems fairly certain that they employ neither attorneys nor enrolled agents, but they maybe-do / maybe-don't employ CPAs.
Pay attention here, because the twists and turns are coming up!
So who owns Supermoney, LLC? We turn to the wonderful resource CorporationWiki.com to discover the name Miron Lulic, and another interesting name.

The name "Jesse E. Stockwell" is interesting because he's listed on Optima Tax Relief's own site as a founder of Optima Tax Relief. Here is CorporationWiki's profile on Jesse Stockwell: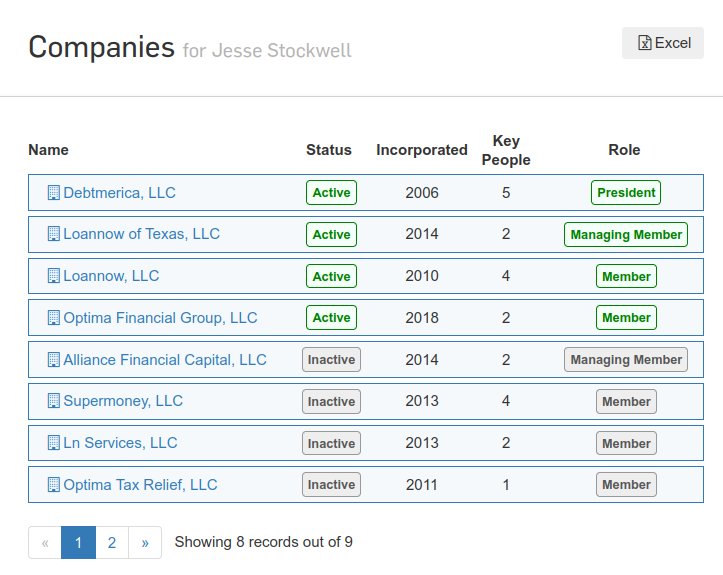 So we see that not only is there an Optima Tax Relief, there is also an Optima Financial Group, LLC. Recall the BBB alert on TaxRise, mentioning Optima Advocates, a (former) subsidiary of Optima Financial Group which was barred from offering debt relief to student loan holders.
This is also getting weird because Jesse Stockwell of Santa Ana, California (geographically adjacent to Irvine) also is affiliated with the companies Debtmerica (a debt consolidation and loan option service) and LoanNow (loan service advertised as "money in minutes"). Between the tax relief companies, student loan relief, debt consolidation, and non-bank loans, all of these industries have one thing in common: Their clients are all desperate people in debt with nowhere to turn.
Finally getting back to Essam Abdullah, when we plug him into the same search, we find that TaxRise and Optima Financial Group are just part of the story: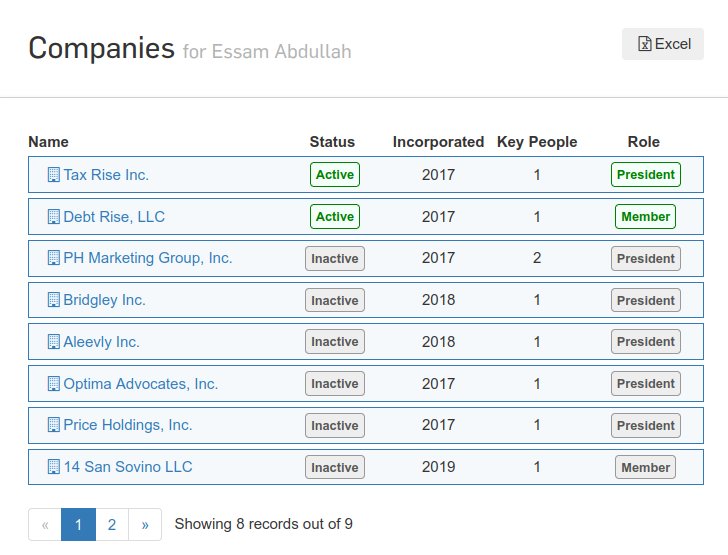 So TaxRise and DebtRise obviously share the same root, again keeping to the theme of marketing to desperate consumers with piles of debt. In addition, we have:
(now-defunct) Aleevly (Irvine, CA) – another debt consolidation service, seems to have worked with student loans
(now-defunct) Bridgley (Irvine, CA) – another tax relief service
(?) 14 San Sovino LLC (Newport Coast, CA) – a private residence that sold for $1.2 million in March 2019 – and is apparently a corporation?
Finally, while we're rounding up associated corporations, here's the affiliated tax relief companies claimed on Optima Tax Relief's own website:
And if you're thinking that this all sounds a bit suspicious, to say the least, you'd be right!
Anatomy of a Predatory Business Model
First off, Optima and all of its affiliated companies make their entire customer base out of people in debt. Second, they do so with a confusing panoply of shell companies, some of which are only referral mills to their main company. Does it make sense to run this huge network of companies if you had an established brand name in a reputable industry? Would you do this with any other kind of business?
According to Washington Tax Services, there are over 100 dead tax relief/resolution companies for just this century alone. Out of those, over 50% are just in southern California! At this rate of creating and closing so many fly-by-night companies, it's little wonder that this industry has such a sour reputation that the FTC has a whole warning page just for the tax relief industry.
For more about fraudulent tax relief companies, see our big tax relief company guide here.
Are you here because you have tax problems?
First of all, we publish a free tax help guide, so that you can handle your tax problems in "do it yourself" style. Maybe that will help you, or at least you'll be a better-informed consumer about your options.
Still, need help? Right about now, how does an actual, expert attorney in tax cases sound? Now, how about a free, no-obligation consultation, with our guarantee that we will not take your case until we know that we can improve it?
Sounding better? Set a free appointment for a consultation or call (888) 515-4829 with no further obligation today!