Here we go over another tax relief scam, Solvable. Firms that are rated extremely low on Yelp, BBB, and Google might be listed near the top of Solvable. We have come to the conclusion that Solvable is a manipulated site and the reviews cannot be trusted.
Solvable reviews – can you rely on them?
 Solvable reviews companies focused on debt relief companies – specifically tax debt relief and credit card debt relief companies. For this post, we will focus on the tax debt relief companies with feedback posted on their site.
At a glance, Solvable seems like a good website to check tax debt relief reviews. It looks like a reputable website. In fact, some of the high rated tax debt relief companies they have in their reviews are good companies. On the other hand, there are also some companies that made it to the top-rated companies on Solvable, but if you check their reviews on other sources online, a lot of them are negative.
For this reason, it would seem like some Solvable reviews could be controlled. In this post, what we'll be doing is we're going to take a  look at the reviews of the companies posted on Solvable, then compare it to other reviews online. We are going to compare them to the reviews posted on Yelp and the BBB. Yelp belongs to the Top 10 Consumer & Business Review Websites, so these websites can be trusted with reviews.
Where to look for the tax debt relief company reviews on Solvable
On Solvable's web page, if you go to the Company Reviews section for Tax Debt Relief, you will get a list of highest rated companies on their site. You can also sort in alphabetical order, but by default, the companies are displayed according to rank. In this post, we will focus on the top 5 tax debt relief companies listed on Solvable and compare the Solvable reviews to more reputable online sources.
Top 5 Tax Debt Relief companies on Solvable
The tax relief companies we will cover here are Stop IRS Debt, Community Tax, J David Tax Law, Tax Defense Network, and Hurricane Tax.
#1 – Stop IRS Debt
Stop IRS Debt rating on Solvable: 9.6/10
According to Solvable, the company that came at number one is Stop IRS Debt. It has an average rating of 9.6 out of 10 with a total of 158 reviews. That looks impressive. It would seem like the company does have a lot of satisfied clients. If you are someone checking out the Solvable reviews, it would make you want to reach out and ask them to help you with your tax debt.
However, if you check other reviews from other websites, it would probably raise concern. For example, on Yelp, Stop IRS Debt doesn't come off as a company that is highly recommended. As opposed to what Solvable reflects on their website. Clients have been giving comments and some of them involve words such as "scam", "unreliable", and "unethical". There are still some positive reviews but overall, most reviews are not good.
On Yelp, Stop IRS Debt has a rate of only 1.5 stars out of 5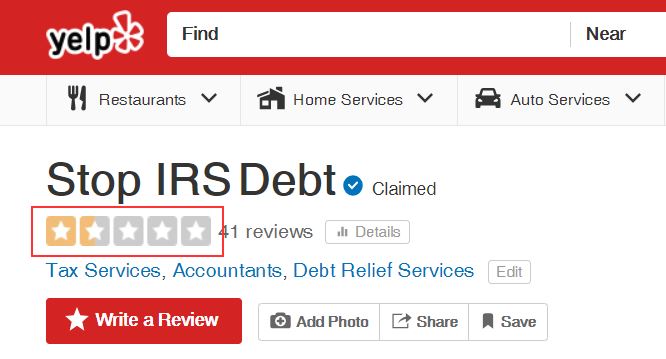 When you read the comments, you would come across some unsatisfied clients. There are some who would say that the money they paid just went to waste, some others say that the company didn't do what they promised.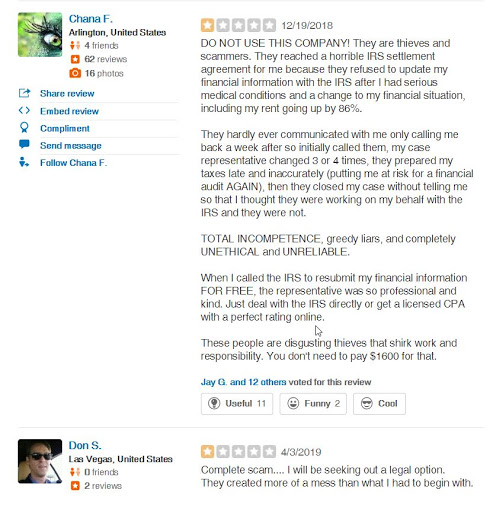 If you check other websites like BBB, you will also find the same negative comments. Here is an example below.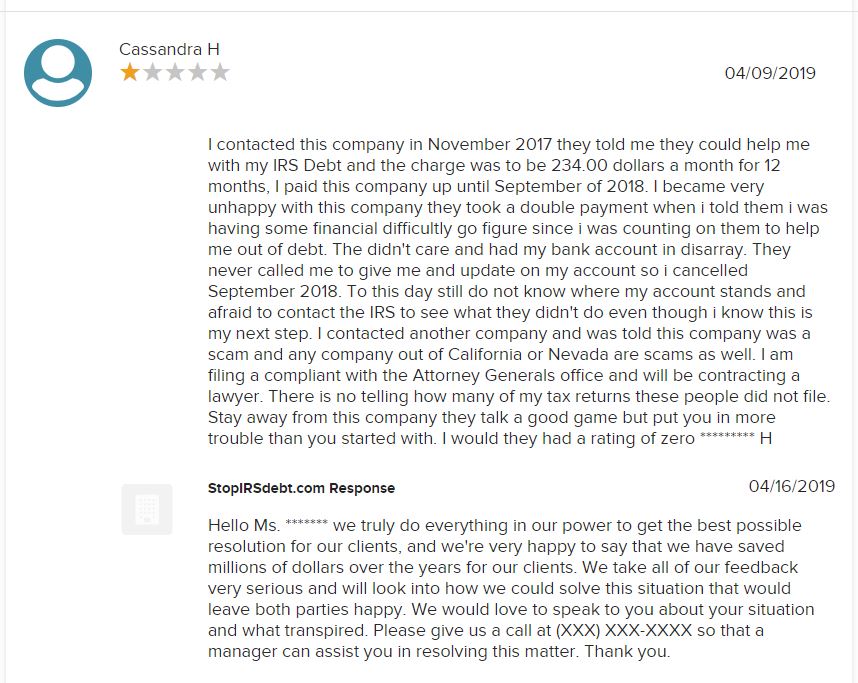 #2- Community Tax
Community Tax rating on Solvable: 9.4/10
Second on the list is a company named Community Tax. They also received a high review – 9.4 out of 10, with a total of 114 reviews. Again, when we checked out other websites, Community Tax doesn't seem as highly recommended in Solvable. Community Tax is based in Chicago, Illinois and was founded in 2010.
We checked on Yelp and they have a rating of 3 out of 5 stars. This rating is an average rating. When we looked further into the reviews, the company gathered mixed ratings from clients. Some would give them as high as 5 stars, while there were also some who gave 1 and 2 stars. These were some of what they had to say.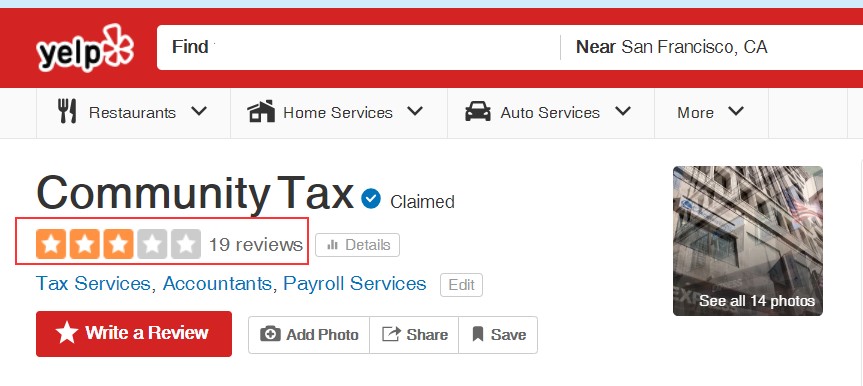 Here is a review with a one 1 star rating.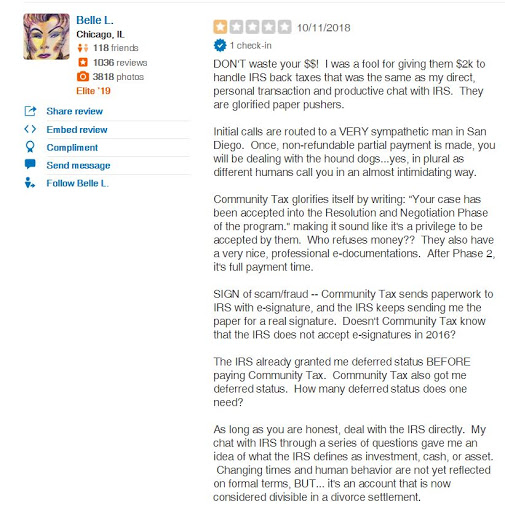 People also complained about Community Tax on the BBB website. See below.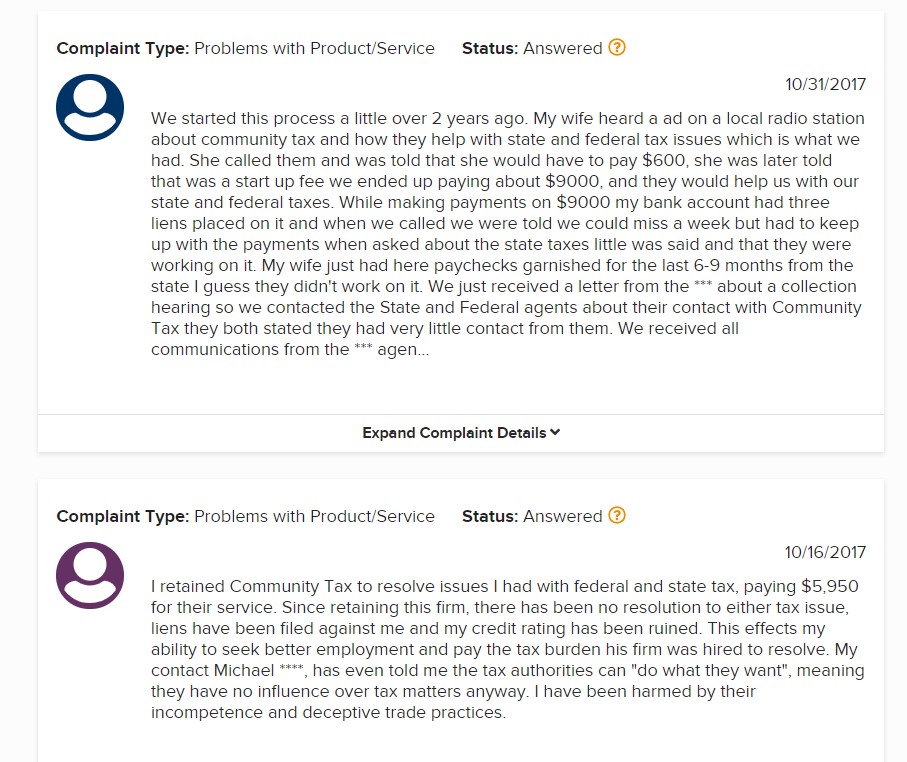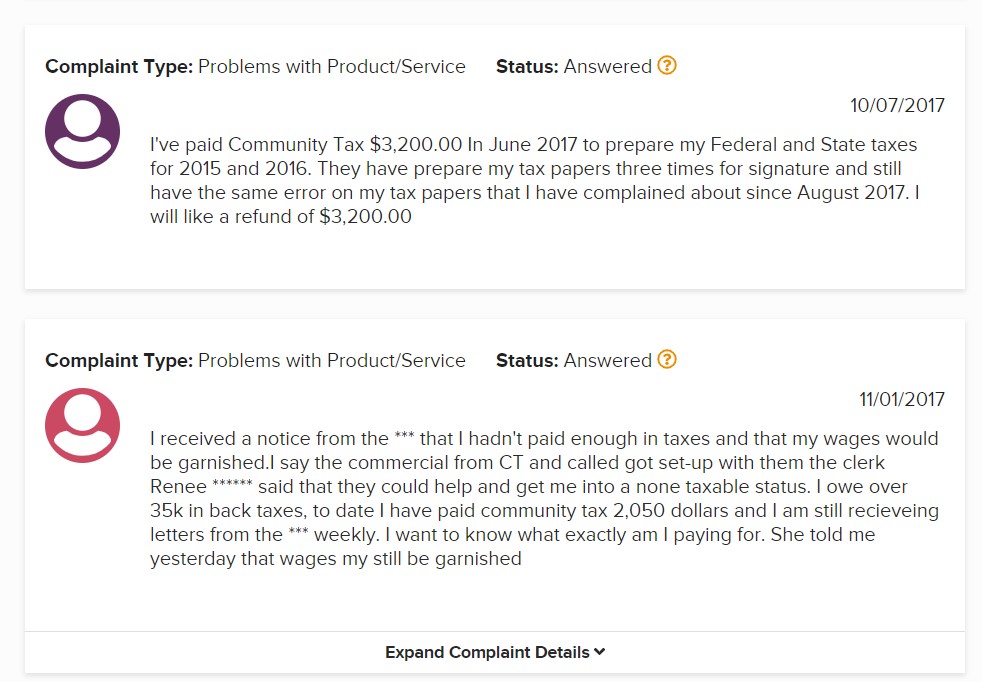 #3- J David Tax Law
J David Tax Law rating on Solvable: 9.2/10

J David Tax Law is another tax law firm based in Jacksonville, Florida. Tax cases are handled by attorneys at J David Tax Law. Solvable has this company third on their list. They have a rating of 9.2 out of 10. On Yelp, J David also has a good rating- 5 stars. But unlike the Stop IRS Debt and Community Tax who have more reviews, J David Tax Law only has 2 reviews on Yelp.
J David Tax Law rating on Yelp: 5 Stars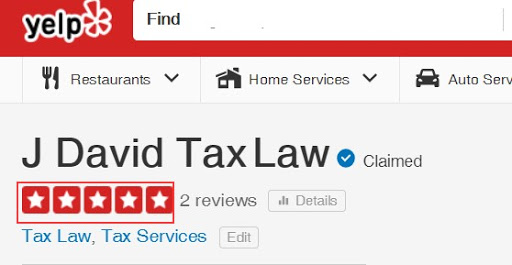 Reviews for J David Tax Law on Yelp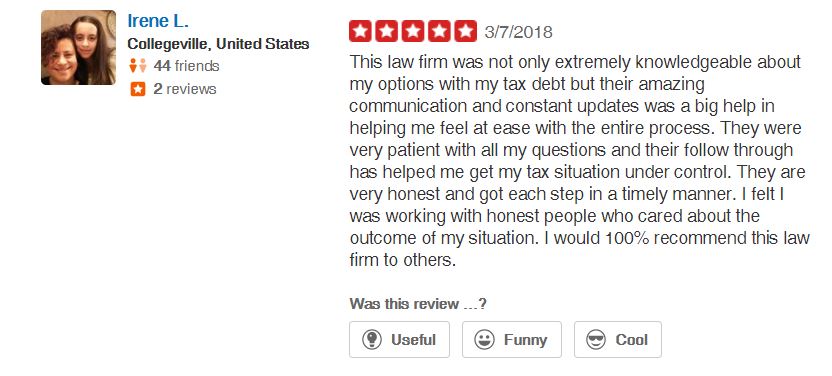 So far, J David Tax Law ratings are looking good. On BBB, the company has an A+ rating. This means, their rating is between 97 to 100.
Here are some reviews for J David Tax Law on BBB.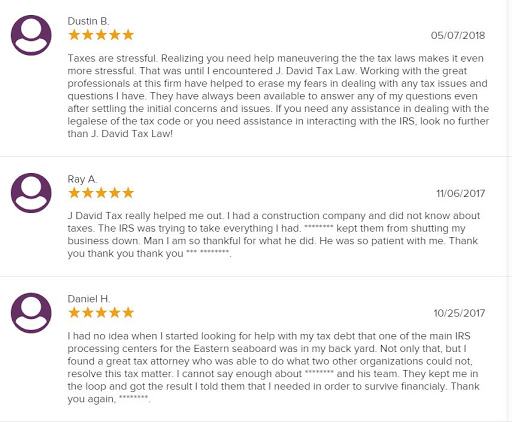 J David Tax law seems to be a legitimate company actually helping people. They have good ratings across the board. If Solvable was legitimate, J David Tax Law should be ahead of the other tax relief companies.
#4- Tax Defense Network
Tax Defense Network rating on Solvable: 9/10

At the fourth of Solvable's list is Tax Defense Network. Tax Defense Network is a trademark of Moneysolver. MoneySolver is a national financial services company focused on student loans, taxes, business, and credit situations.
The company has been around since 1997, and is located in Jacksonville, Florida. The reviews of Tax Defense Network seem interesting. When we looked at the reviews on Yelp were different as opposed to the reviews on BBB.
Let's take a look on the reviews on BBB. Tax Defense Network prides themselves on the fact that their company has an A+ rating on BBB. We checked it out and saw the stated A+ rating on BBB. They have a lot of customer reviews here – a total of 392.
Tax Defense Network on BBB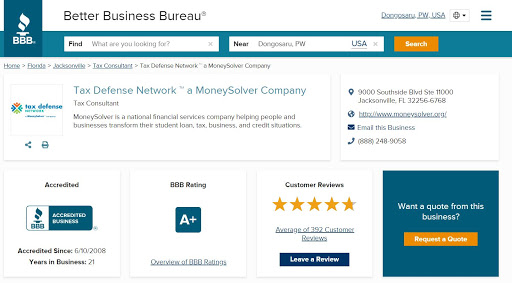 Tax Defense Network BBB customer reviews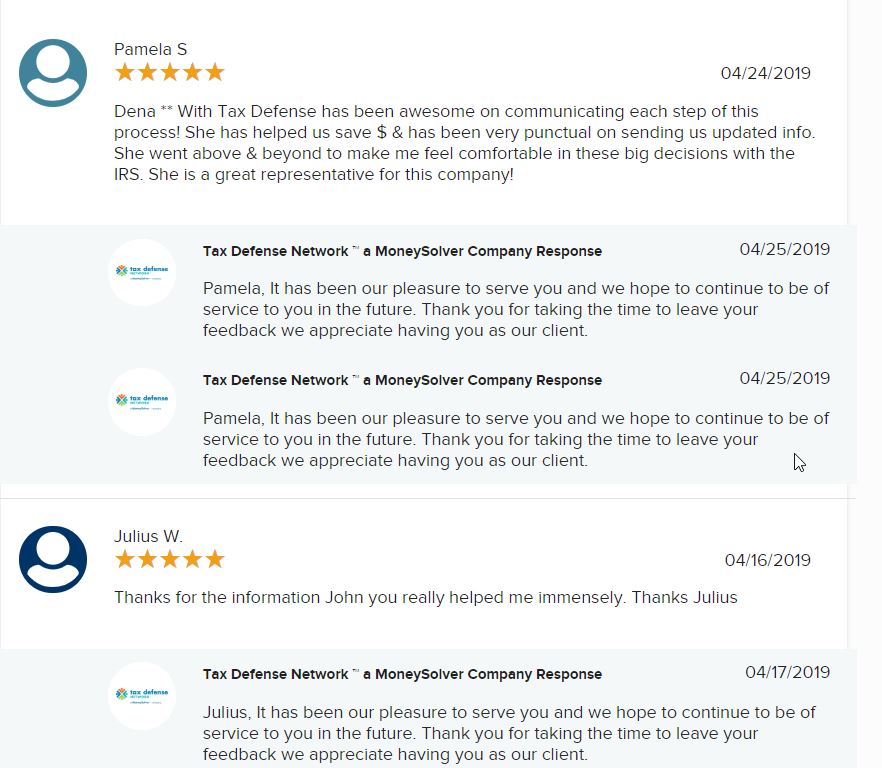 Now let's move to reviews on Yelp. If you check Tax Defense Network on Yelp, the company has a rating of 1.5 stars out of 5. Now, how come the rating on this site is different from BBB? Let's take a look on what the clients said to have them come up with the said rating.
Tax Defense Network Yelp rating: 1.5 out of 5 stars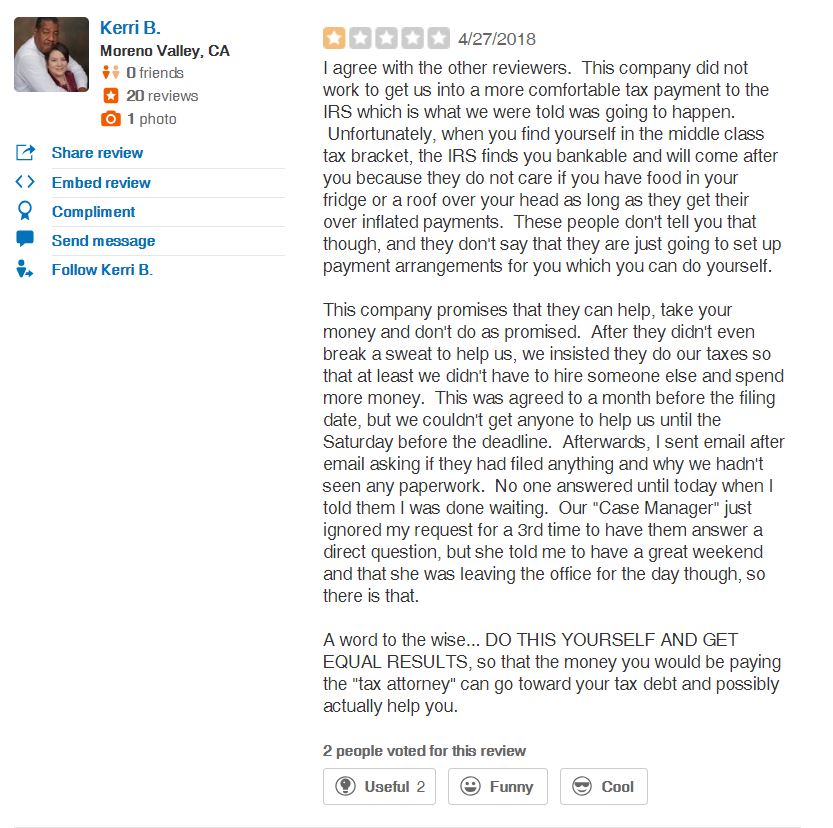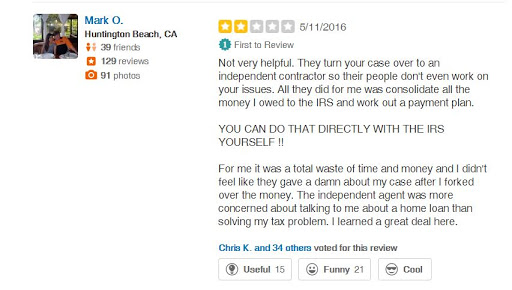 We're not entirely sure why there are more negative reviews on Yelp compared to BBB, but maybe looking at these will help you in making a decision on hiring them.
#5- Hurricane Tax
Hurricane Tax rating on Solvable: 8.6/10

Number five on the list is Hurricane Tax. Founded in 2016, Hurricane Tax is a full-service tax company providing tax resolution, tax preparation, tax consultation, accounting, and bookkeeping services. On Solvable, the company has a rating of 8.6 out of 10 with over 72 reviews.
Let's try and take a look at the reviews on Yelp. Hurricane Tax only has 4 reviews on Yelp, and these have a total average of 3 out of 5 stars.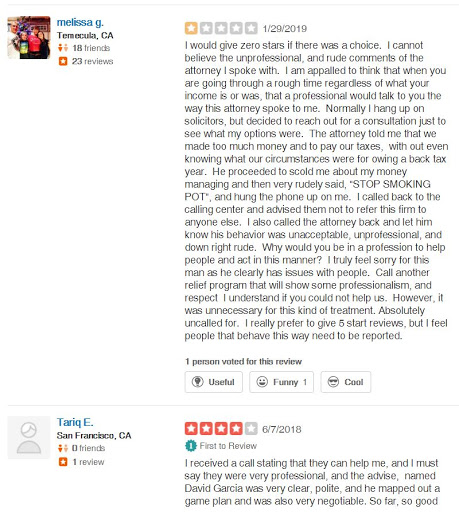 As for the reviews on BBB, Hurricane Tax has a rating of B+ and customer reviews of 4 out of 5 stars. There have been 10 complaints closed in the last 3 years, and 9 complaints closed in the last year as per the website.
Below you will see a photo of some of the said complaints.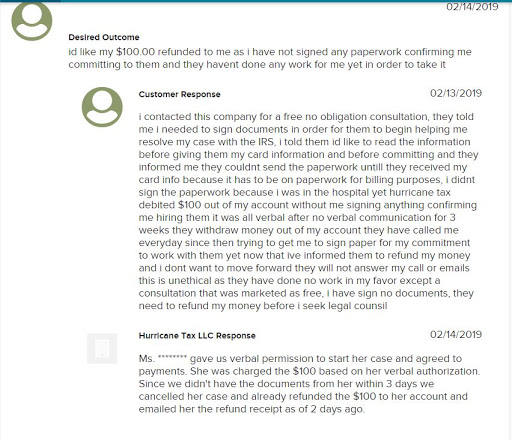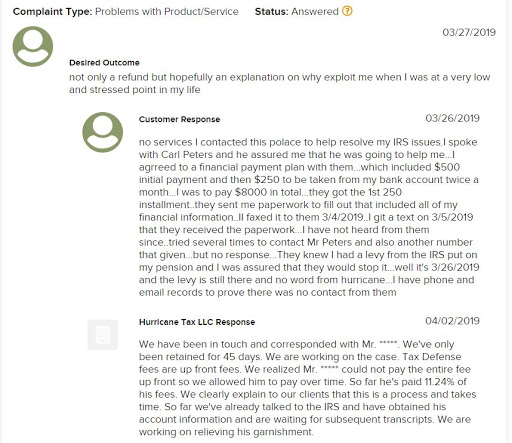 Conclusion
Solvable is clearly a manipulated review system. The companies listed at the top are actually poor quality companies with bad reviews on more legitimate review sites.
For more about fraudulent tax relief companies, see our big tax relief company guide here.
Solvable reviews mostly consist of vague statements such as "the company was very helpful" or "I would recommend this company."
The best help you can get is from a legitimate tax law firm.
If you need help, drop us a line or call us at (888) 515-4829 and get a realistic consultation on your case from an expert tax attorney.
Summary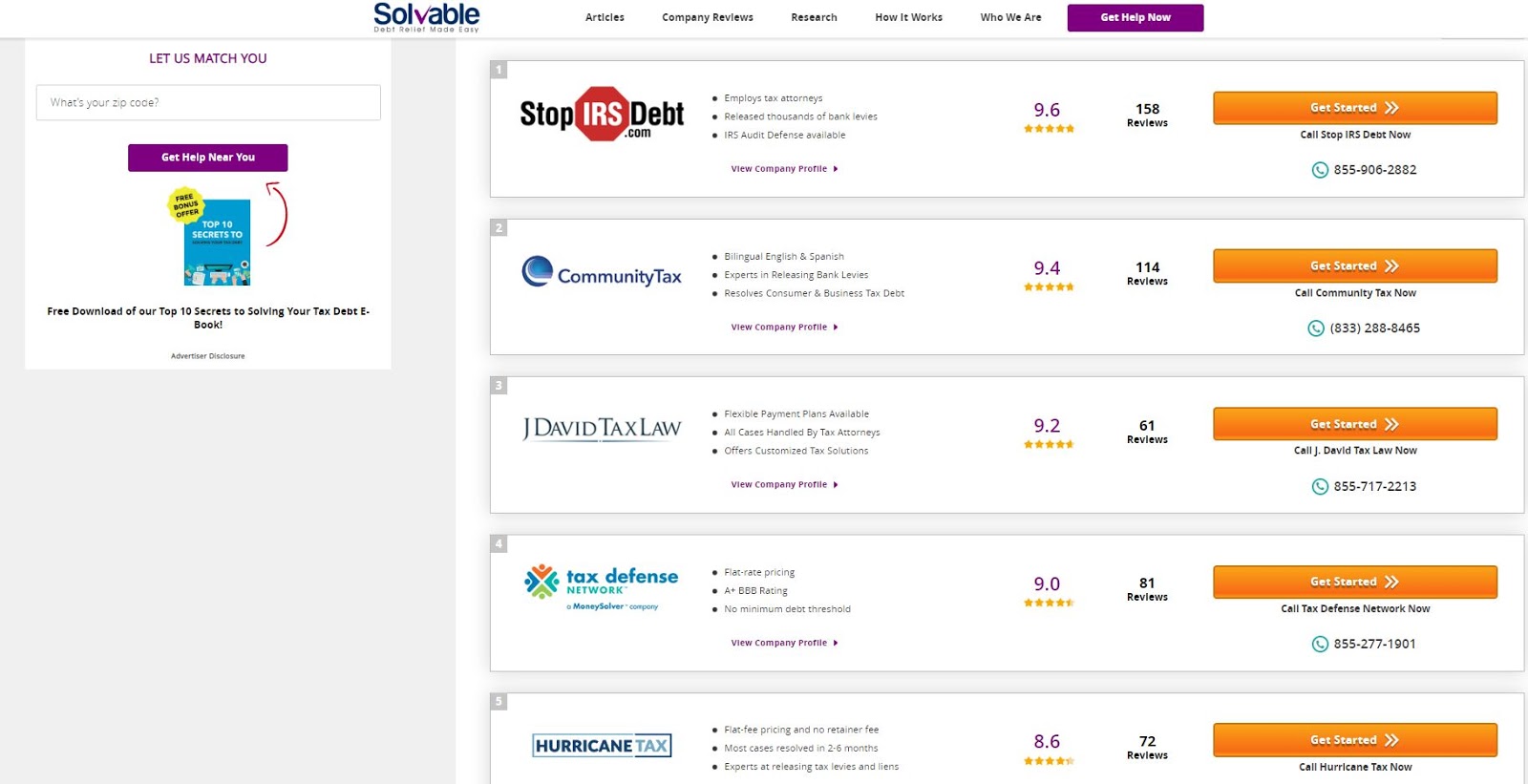 Article Name
Solvable Reviews Are Completely Skewed For Tax Relief
Description
A rundown of reviews on Solvable for various tax relief companies. See how the reviews on Solvable compare to reviews on more trusted sources like Yelp and the BBB.
Author
Publisher Name
Tax Resolution Professionals, A Nationwide Tax Law Firm
Publisher Logo